Dr. iur. Bernhard Madörin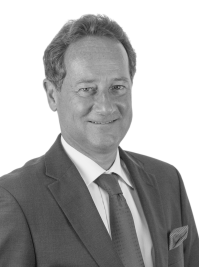 Dr. iur. Bernhard Madörin (*1959) was born and brought up in Basel. After successfully graduating secondary school he studied jurisprudence at the University of Basel and completed his studies with a dissertation in tax law.
The first professional experience in trust he gained between 1983 and 1998 as an employer and future partner in his father's trust agency, whereby he took root in this sector. By founding his own trust agency "Treuhand Dr. iur. Bernhard Madörin" in 1998 he went into business for himself.
Since 2000 Dr. iur. Madörin is a partner and a longstanding member of the Board of Directors of artax Fide Consult AG. Beside his function as deputy managing director he, as a tax and trust expert, is responsible for the divisions taxes, law and management consultancy. Today Dr. iur. Madörin can look back on 30 years of professional experience as a trustee and independant contractor.
During these years Dr. iur. Madörin specialised in tax law for individual persons as well as for small and medium-sized companies. He can revert to a well-founded know-how in taxes, finances and law. Additionally Dr. Iur. Madörin's expertise includes strategic leadership, financial consulting, stock corporation law, financial accounting with auditing and coaching. On these subjects Dr. iur. Madörin wrote several scientific and practice-oriented books and essays and he often performs as a speaker at public events. Since 2017 he is publisher of the edition "Steuer- und Finanzratgeber für Unternehmen" (Publication list of Dr. iur. Bernhard Madörin).
In approximately 45 different institutions he holds office as the executive body, where between 2010 and 2017 probably the most prominent mandate at the IWB Industrielle Werke Basel came along.
Dr. iur. Madörin is a member of the Swiss association for tax law and he was politically active from 1999 to 2006 as Great Council of the canton Basel-Stadt.
In December 2017 Bernhard Madörin startet the new concept art Color Wor(l)d, which presents a stirring interplay between colors and words. The paintings are currently exposed at the artax offices and later as an exhibition at the Rappaz Museum.
In 2008, in cooperation with Dr. med. Hanspeter Braun, Dr. iur. Madörin published the book "Wärme, Schärfe und Gesundheit" about traditional Chinese medicine, which received the "Preis für Alternativmedizin 2008". In December 2015 Dr. iur. Madörin published his second criminal novel named  «Tanja: Ein Roman zum Zeitgeschehen». The first one entitled "Tödliche Gene" was published in the beginning of 2011 and was in the top ten (Belletristik Basel) for several weeks.